The activity took place on September, 19, 2020, online, via Zoom. The event involved 28 citizens, including 25 participants from the city of Amsterdam, The Netherlands, 1 from the city of Lisbon, Portugal, 1 from the city of Rome, Italy, 1 from the city of Budapest, Hungary. This activity aimed to familiarise the participants with the complexity of decision making at the EU level and to promote the discussion of the type of Europe we would like to see.
The methodology used was in line with non-formal education and the tools used were from Improve Theatre – improv games and role playing. Each participant was given the role of the leader of a random EU country and had to conciliate national interests with the European interests in solving a case study (the event that had happen few weeks ago about the refugees in Moria camp).
The programme of this workshop session included:
1 – Welcoming & Ice-breaking exercise
2 – Small groups games to start to enter the character
3 – Plenary discussions and exchange of experiences
4 – Case study presentation and the 5 scenarios explained
5 – Same small groups get together to discuss what to do with Moria situation – each group had to act has one of the possible scenarios for the Future of Europe
6 – Big group discussion and exchange of opinions about the best scenario
7 – Voting
7 – Informal discussion
8 – Closure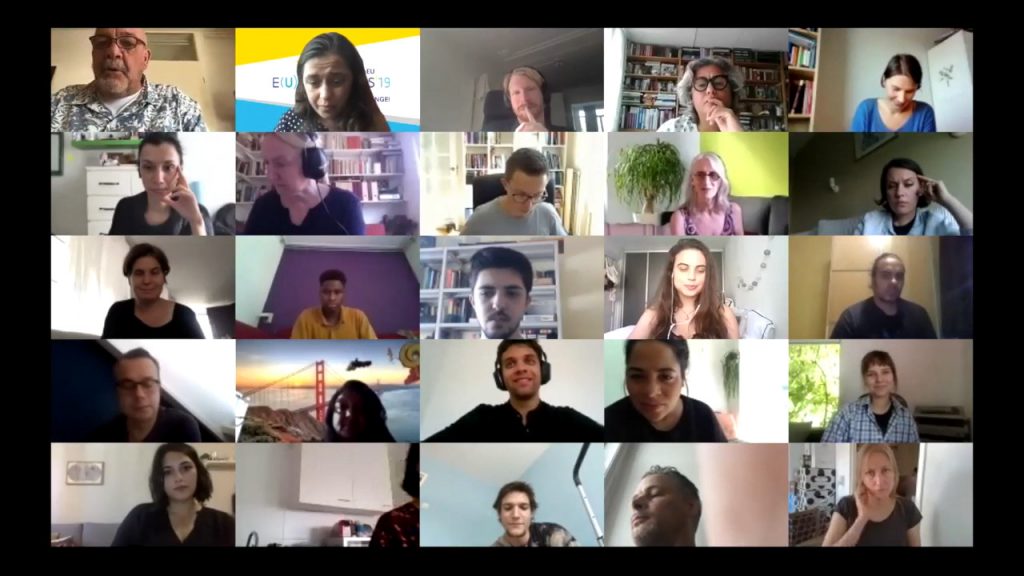 We had a few people leading each small group that were training in Improv, and the rest of the participants were young adults from different backgrounds.
For the ones that have o previous knowledge of politics and decision making at the EU level the 5 scenarios are concepts difficult to grasp. In the end there were more questions that answers but the groups felt that scenario 3 would be the desirable in order to avoid complex never ending processes and being able to take fast and efficient decisions.