The event took place on 10th May, at ISCTE-IUL, and gathered 91 Portuguese participants.
After registration, each participant received a bag with promotional gifts and information about the project.
The day started with the participants expressing their thoughts about populism in what we called the "Tree of Europe".
Then, we invited participants to gather in groups and play the "Who wants to be an European Expert" quiz, where questions about the importance and presence of the European Union in our daily lives were made.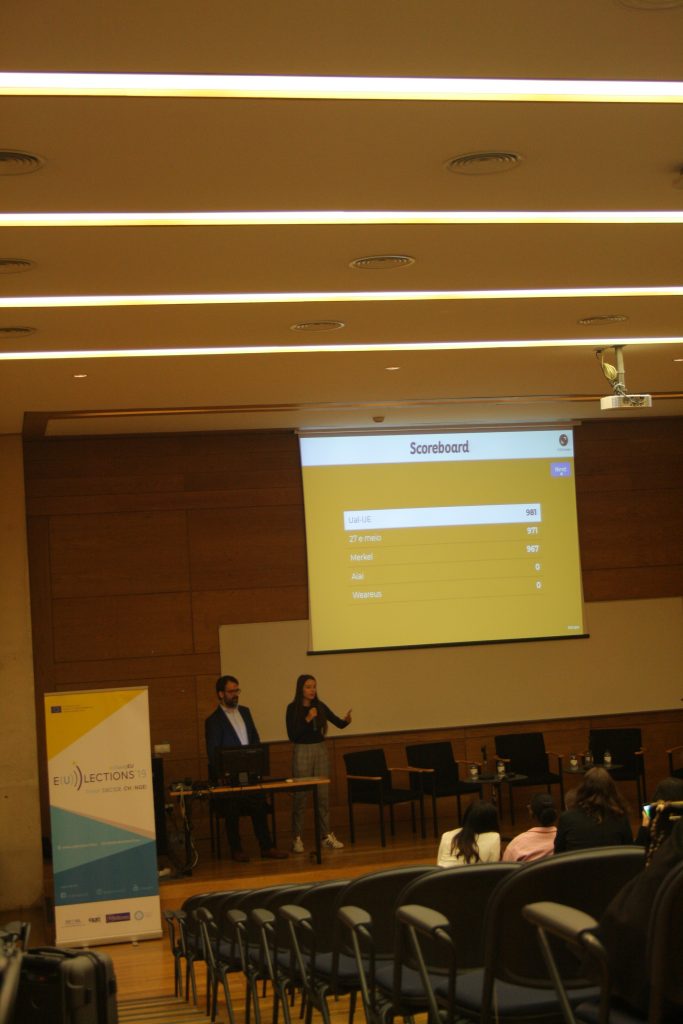 After this "warm up", participants had the opportunity to discuss with academic researchers the theme of populism and its threats to the European Union in a roundtable entitled "Populism and democracy: what´s at stake?" moderator by the Executive Editor in Chief of the Portuguese newspaper "Diário de NotĂ­cias".
Following this debate, the event could count with the presence of the Portuguese Secretary of State of European Affairs, Ana Paula Zacarias.
In the "The citizens meet… Ana Paula Zacarias" participants had the opportunity to learn more about the work done within this State Secretariat and to make questions about the European neighborhood policy and the future of the European Union.
The training session "May the vote be with EU: workshop on future scenarios" started with a "EU dating" in which participants had to share with each other theirs answers to questions like "What does it mean to be an European Union citizen" and "Why will I vote for the future European Parliament elections?".
Afterwards, divided in small groups, each group had to discuss the pros and cons of each scenario reflected in the "White Paper on the Future of Europe: Reflections and scenarios for the EU27 by 2025" of the European Commission and present it to the whole group. In the end of this activity, each group created what they considered to be an "ideal scenario" for the future of European Union, with their recommendations and opinions.
This event ended with the presentation of the webcourse "ChangEU Multipliers" and with each participant showing a card to the actual European Commission , where Green meant that they feel European Commission aligns with their interests and opinions, Yellow meanining that they somehow feel connected with the European Commission work, but they feel some lack of representation and Red signalizing that they don´t feel represented at all by the work done by the European Commission.
During this event, some of the young participants also shared with us their expectations regarding European Union and the European Parliament.